Your favorite stadium-style garlic fries with all the flavor and none of the guilt.
We all know that garlic fries are pretty much the best thing ever, but sometimes we feel bad about that whole fried food thing. Luckily, when you oven bake your fries at home, you get to enjoy those crispy-on-the-outside juicy-on-the-inside little flavor poppers without feeling so heavy and greasy afterwards.
New year's resolution 2016: Eat more fries.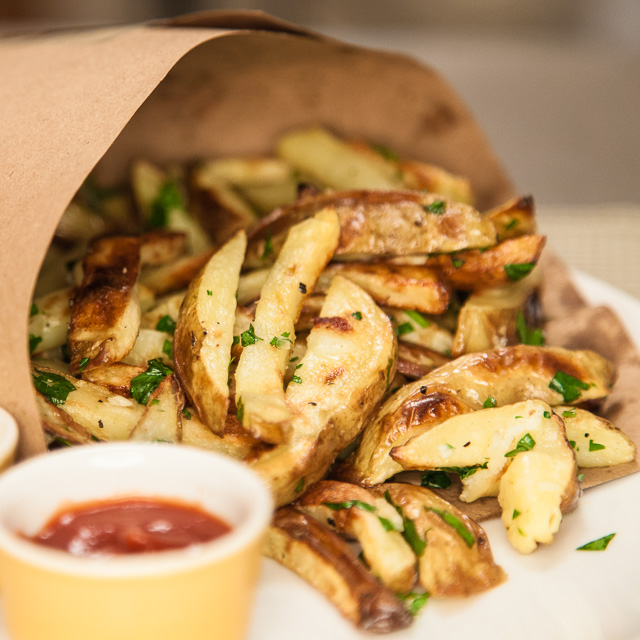 Oven Baked Garlic Fries
Your favorite stadium-style garlic fries with all the flavor and none of the guilt.
Author:
The Vegan Video Pantry
Ingredients
2 large or 3 medium sized waxy potatoes (we used Yellow Finn Potatoes)
3 tbsp + 1 tbsp olive oil
⅓ cup finely chopped flat leaf parsley
2-3 cloves minced garlic
fresh ground black pepper to taste
salt to taste
Instructions
Preheat the oven to 425.
Cut potatoes into thin fry sticks (see video). You can cut them using any thickness you prefer, but the cook time will be longer with thicker cuts.
Soak cut potatoes in a bowl of cold water for about ten minutes. This step helps make your fries juicier on the inside.
Drain and pat dry using a kitchen towel. When potatoes are dry, place them in a large bowl and toss with salt and 3 tbsp of olive oil.
Spread out onto two parchment lined baking sheets. Spreading them out so that there is very little overlap is KEY to making crispy fries.
Bake for 20 minutes, tossing the fries halfway through so that they cook evenly on all sides.
While fries are baking, combine garlic, parsley, remaining 1 tbsp olive oil and black pepper in a small bowl.
When fries are finished baking, they will be browned and crispy in places without being burnt. Dump them into a large bowl and toss with the garlic-parsley mixture.
Serve immediately!