The ultimate sweet and salty snack attack.
When I lived in New York, I knew all the best spots for grabbing a vegan cookie around town. Some of them weren't even vegan bakeries, they just happened to have one really good vegan cookie.
One of these spots was Ovenly Bakery, whose Salted Chocolate Chip Cookie just kind of happened to be vegan and just kind of happened to be the perfect salty sweet treat I needed every time I passed through Greenpoint.
This recipe was inspired by that salty sweet treat. We've taken their recipe, which we found on Food 52 and tweaked it a bit, adding in our other favorite snack and modifying some of the steps for a cookie dough that doesn't need to be refrigerated over night (because, let's face it – when I feel like making cookies, I want to eat them NOW.)
If you need tips on making popcorn at home sans microwave, check out our Movie Theater Popcorn video.
As always, we recommend using Earth Balance products for your vegan butter, but any brand will do!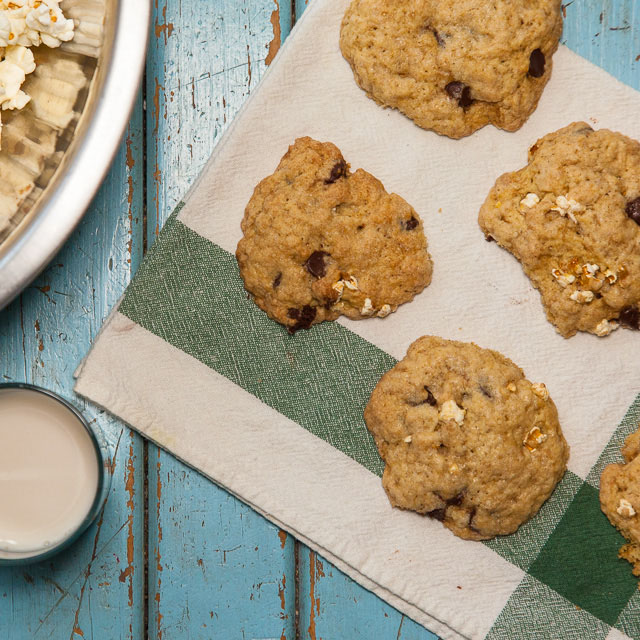 Buttered Popcorn Chocolate Chip Cookies
The ultimate sweet and salty snack attack.
Author:
The Vegan Video Pantry
Ingredients
2 cups AP Flour
1 tsp baking powder
¾ tsp baking soda
½ tsp salt
½ cup granulated sugar
½ cup brown sugar
½ cup vegan butter or shortening (cold)
¾ cup cold water
2 cups popped popcorn
1 tbsp melted vegan butter
½ cup dark chocolate chips
¼ cup granulated sugar (for rolling)
1 tsp coarse salt (for rolling)
Instructions
Preheat oven to 350. Line a baking sheet with parchment paper.
In a medium sized bowl, mix flour, baking soda, baking powder and ½ tsp salt. Whisk to combine.
In a stand mixer, cream the ½ cup cold vegan butter. Add in the sugars, a little bit at a time until a thick paste is formed. Then add in the flour mixture, a little bit at a time. The dough will be quite dry and crumbly at this point - that's okay. Add in the water, a little bit at a time until a dough ball forms. You may not need to use all the water. Try not to over mix.
Once you have your dough ball, gently mix in your chocolate chips, popcorn and melted butter until just combined.
Mix the ¼ cup of granulated sugar with the 1 tsp of coarse salt in a small bowl.
Use a teaspoon to scoop up clumps of dough, then roll then into a ball in your hands. Roll them in the salt sugar mixture, then place on the parchment lined baking sheet, leaving room for the cookies to spread.
Bake at 350 for about 15 minutes, until golden brown along the edges.