Whether you're spending the weekend waiting in line to see The Force Awakens, holiday party hopping or binge-watching Netflix's newest true crime doc series, this is the snack mix you've been looking for (waves hand to control the weak of mind and stomach).
Mr. Vegan Video Pantry's sister whips up huge batches of homemade Chex Mix for Christmas every year, and it is always a GIANT hit.  So, with so many reasons to snack this season, we thought it was about time we try out a batch of our own.
Ours has a ranchy bend to it, but you can mix up the seasonings and use different bits and bobs in the filling.
What's your favorite Jedi Snack Mix? Tell us in the comments below!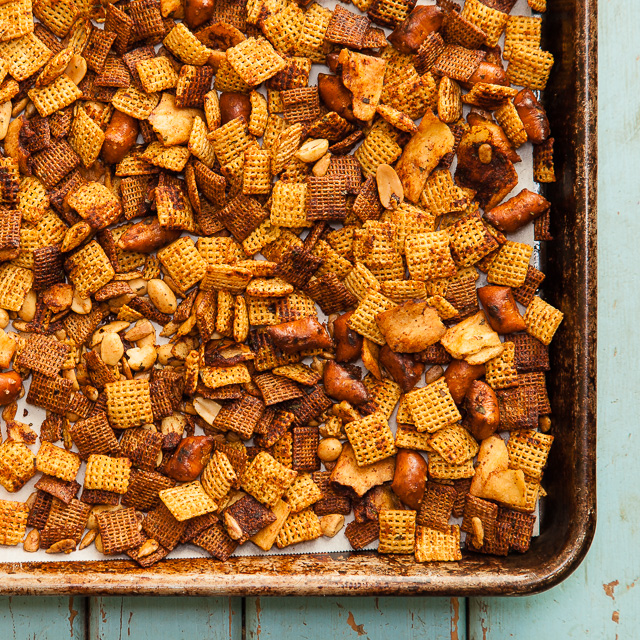 Jedi Snack Mix
Our veganized version of a party favorite!
Author:
The Vegan Video Pantry
Ingredients
4 tbsp vegan butter
1 tsp white miso
2 tbsp soy sauce
1 tsp garlic powder
1 tsp onion powder
2 tsp dried chives
2 tsp dried parsley
1 tsp nutritional yeast
3 cups corn Chex cereal
2 cups wheat Chex cereal
½ cup pretzel bites (any bite-sized pretzel shape you like!)
¼ cup roasted unsalted peanuts
¼ cup roasted unsalted sunflower seeds
1 cup plain pita chips, broken into bite sized pieces
Instructions
Preheat oven to 250.
Melt butter in a small saucepan over medium heat. Add in miso, soy sauce, garlic powder, onion powder, dried chives, dried parsley and nutritional yeast. Whisk over low heat until miso is dissolved and all ingredients are combined.
In a large bowl, combine corn Chex, wheat Chex, pretzels, peanuts, sunflower seeds and pita chips. Pour butter mixture in and stir with a wooden spoon until everything is coated. Spread out on a parchment-lined baking sheet.
Bake at 250 for 30 minutes, stirring once halfway through. When it's done, the coating should all be dry and the mix should have a golden sheen.