Whether you're vegan, vegetarian or just don't like the idea of raw egg in your salad, you and Caesar can finally be reunited, and you bet it feels so good.
Growing up, Caesar salad was my hands down favorite side dish, until I learned about all the crazy stuff that usually goes into it and swore it off forever.
But after a few healing years of sampling amazing vegan versions at places like Peacefood in NYC and Cafe Gratitude in LA, Caesar and I have decided to get back together.
It turns out making a vegan version of this classic is not only super easy, it's also way healthier (duh) and even yummier (yay!) than the original.
You can serve this as a side or top it with some tempeh bacon or breaded seitan for a more substantial meal.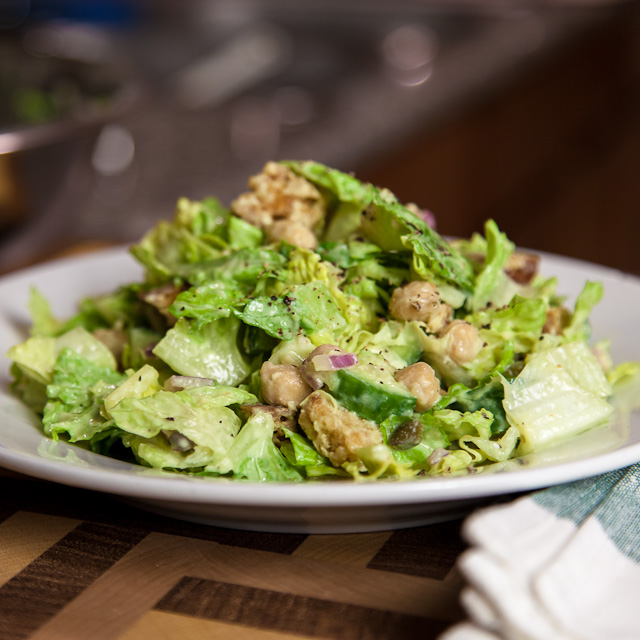 Vegan Caesar Salad with Garlic Croutons
Author:
The Vegan Video Pantry
Ingredients
***For Croutons***
3 slices of sourdough bread, cut into 1-inch cubes
3 tbsp olive oil
¼ tsp garlic powder
¼ tsp salt
freshly ground pepper to taste
***For Dressing***
1 clove of garlic
½ cup firm tofu
1 tbsp nutritional yeast
1 tsp dijon mustard
1 tsp white or yellow miso paste
1 tsp soy sauce
2 tbsp lemon juice
2 tbsp rice, white or apple cider vinegar
1 tbsp caper juice (liquid from the capers jar)
¼ cup olive oil
freshly ground pepper to taste
***For salad***
8 oz chickpeas (½ a can)
2 small english cucumbers, diced
½ a small red onion, diced
1 avocado, diced
2 tbsp capers
Instructions
Preheat oven to 350 degrees.
To make the croutons, combine all crouton ingredients in a large bowl, tossing to coat.
Spread them on a parchment-lined baking sheet, making sure not to crowd them.
Bake for 10 minutes, then toss and bake for another 10 minutes or until they turn golden brown. (Because oven temps vary, keep an eye on them to make sure they don't burn!) Remove and set aside.
To make the dressing, combine all dressing ingredients in a food processor and blend until smooth.
To assemble the salad, combine all salad ingredients, plus croutons and dressing in a large bowl and toss until well coated.
Top with fresh ground pepper and enjoy!