Make a big batch of this fresh and creamy chickpea salad on Monday and you're set with satisfying homemade lunches all week long.
Maybe you grew up eating tuna salad, but now you don't.  Maybe you still do. Either way, this mashed chickpea version filled with carrots, celery, onions and green apples offers a refreshing, healthy and satisfying alternative.  Go ahead, give it a whirl!
WATCH the video above to LEARN how to make this simple recipe at home.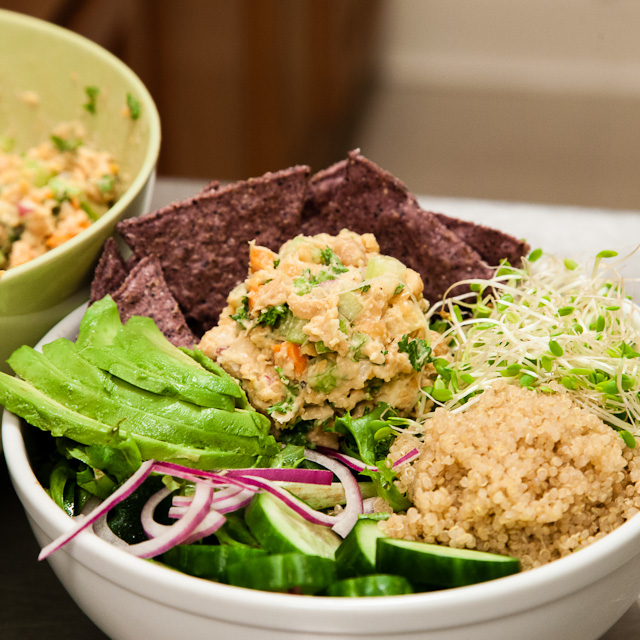 Chickpea Salad
A refreshing, healthy and satisfying alternative to tuna salad. Serve in sandwiches, on salads or as a hearty dip.
Author:
The Vegan Video Pantry
Ingredients
2 cans chickpeas
1 tbsp soy sauce
juice from ½ a lemon
1 tbsp dijon mustard
½ cup vegan mayo (like Just Mayo or Follow Your Heart Vegenaise)
4 stalks celery, diced
¼ of a red onion, diced
2 medium sized carrots, peeled and diced
½ of a granny smith apple, diced
½ cup minced parsley
Instructions
Drain and rinse the chickpeas, then place into a large bowl. Smash against the side of the bowl with a fork or a potato masher until it is pretty smooshed up, but with some chunks left.
Add in soy sauce, dijon, lemon juice and vegan mayo and mix well.
Stir in celery, red onion, carrots, apple and parsley.
Serve with crackers or scooped into a sandwich or on top of a salad. Enjoy!
Notes
You can store this in an airtight container in the fridge for up to a week!