Baby, you're a firework… but we all know those colors are not gonna burst without a solid breakfast in your tummy first.
Does this sound familiar? You're so excited slash overwhelmed about prepping all your goodies for a holiday picnic that you FORGET to eat breakfast.  Now your foodstuffs are all ready, but you're too hangry to enjoy them! D'oh!
Let's rewind and try this again. This time you whip up a batch of these quick and easy berry-filled scones first thing in the morning.  Now your kitchen is filled with an ooey gooey berry and sugar aroma and your tummy is happy and satisfied as you approach the day.  You enjoy a lovely afternoon and evening with family and friends. You even have leftovers to bring to the picnic as a not-too-sweet dessert.
In a word, you are #WINNING.
WATCH the video above to LEARN this sweet and simple summer scone recipe, which is inspired by Erin McKenna's Raspberry Scones recipe from her book, BabyCakes.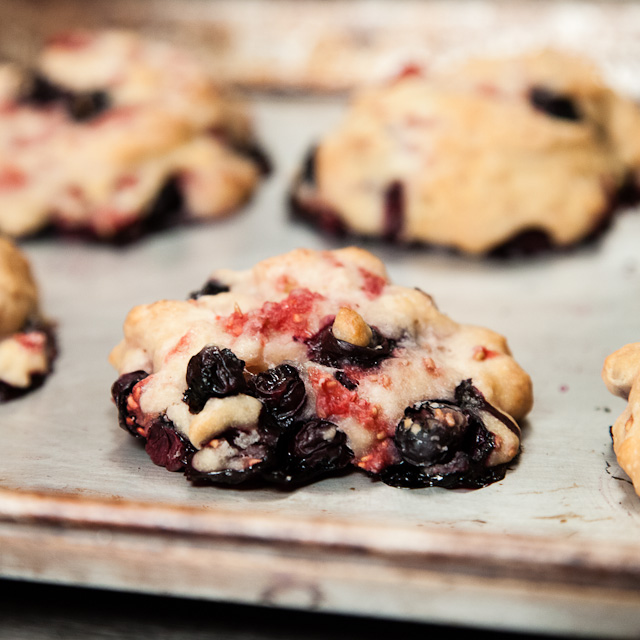 Red, White and Blue Scones
This sweet and simple summer scone recipe was inspired by Erin McKenna's Raspberry Scones recipe from her book, BabyCakes.
Author:
The Vegan Video Pantry
Ingredients
2 cups AP Flour
1 tbsp Baking Powder
½ tsp Salt
⅓ cup Coconut Oil, melted, plus more for brushing
⅓ cup Agave Nectar
1 tbsp Vanilla Extract
1 ¼ cup Hot Water
1 cup Fresh or Frozen Raspberries
1 cup Fresh or Frozen Blueberries
1 tbsp Sanding or Granulated Sugar, for sprinkling on top
Instructions
Preheat oven to 350.
In a large bowl, whisk together flour, baking powder and salt.
Stir in coconut oil, agave nectar and vanilla until a crumbly dry batter develops. Pour in hot water, bit by bit, until you have a glutinous, gooey ball of dough.
Fold in berries.
Use an ice cream scoop to scoop the scones onto a parchment-lined baking sheet. Leave some room between them so they can spread. Brush the tops with oil, then sprinkle with sugar.
Bake for 20 minutes or until tops are lightly browned and berries are oozing out.
Transfer to a wire rack to cool.
Best if served the same day!