On Sunday, we attended the first ever LA Vegan Street Fair.  The concept is amazing: no entrance fee and all food sells for $3 or less so you can try a little bit of everything and avoid coming down with a case of food FOMO (a condition to which I am exceptionally prone).
Their mantra is, appropriately, EAT ALL THE VEGAN FOOD.
Unfortunately, the event was so crowded that following through on this mantra was next to impossible.  Instead, our mantra became EAT ANY VEGAN THINGS WE CAN FIND THE END OF THE LINE FOR.
Seeing such unwieldy crowds at events like this is bittersweet.
On the one hand, I'm bummed I don't really get to enjoy the fair in the way I had expected, but on the other hand, I'm stoked to see what a massive demand there is for a vegan event.  Ultimately, I'm glad that I can help show the event organizers how many people they can expect to show up for this kind of thing in the future.
Hey, it was their first time.  I can cut them some slack.
According to this note they posted on Facebook, they were as surprised and excited by the turnout as we were and they're eager to make it better next year.
How exciting is it that too many people was the problem at an all-vegan event?
---
That being said, we did try some yummy bites and we also learned about some vegan friendly restaurants all around town.
Take this juicy jackfruit Banh Mi sandwich from Mud Hen Tavern, an unassuming neighborhood joint that just so happens to reside in MY NEIGHBORHOOD. I never would have known that their menu is crawling with hidden vegan options if I hadn't seen them at this event.
We all know that the casual tavern with both good vegan options and good non-vegan options is a rare beast, so I'm really excited to have this place in my back pocket for next time I need an omnivorous dinner spot.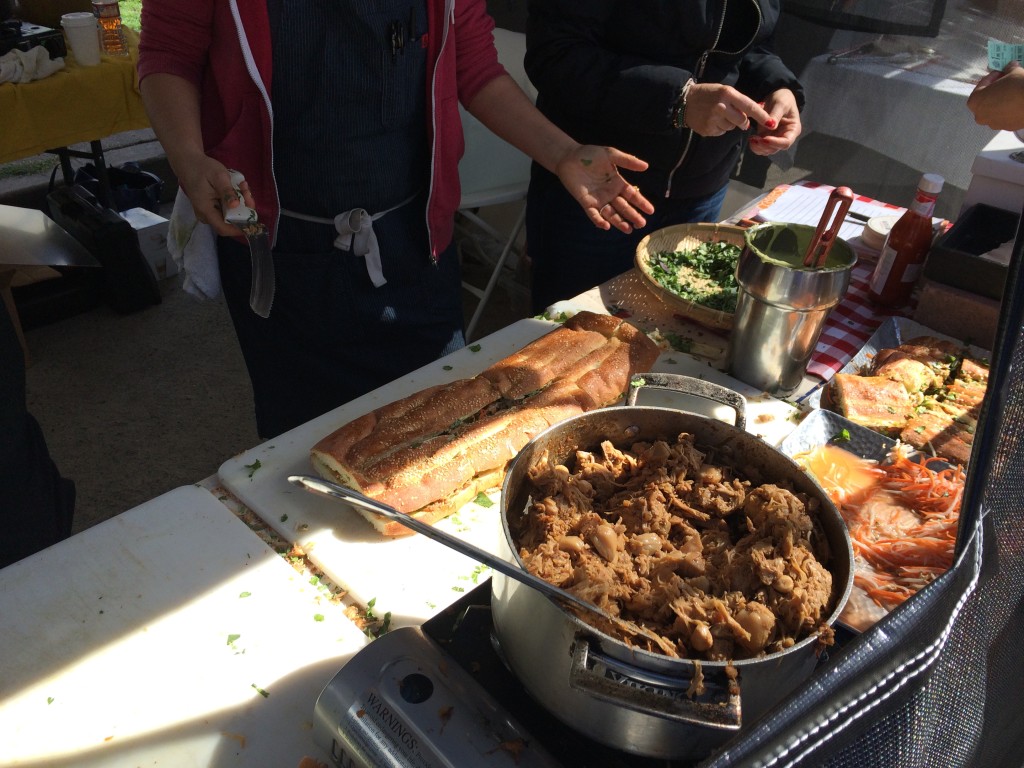 Next was the taco situation.
There were a bunch of stands selling all kinds of yummy looking tacos, but alas, we couldn't try them all (#FoodFOMO).
The ones we did try were stuffed with a good old fashioned potato filling and topped with a salsa negra that I was licking off my lips long after the taco was gone.  Hugo's Tacos is another one of those non-vegan restaurants with veg-friendly options that I will be sure to remember if I ever finding myself getting hangry while out in the Valley, which has been known to happen.
One World Veg was an all-vegan asian restaurant based in West Covina that reminded me a lot of Vegetarians Paradise 2 in NYC – one of those places where you can indulge in fake meat products that remind you of the classic Chinese takeout you used to get before you went veg.
Their teriyaki skewers (seitan? TVP?) were oh-so-tender and flavorful.
Next, there was Vegan Pizza OC, which wasn't selling pizza at all, but was selling the obligatory carnie food that you would expect to find at any street fair worth its salt.
Mmmm…. vegan corn dog…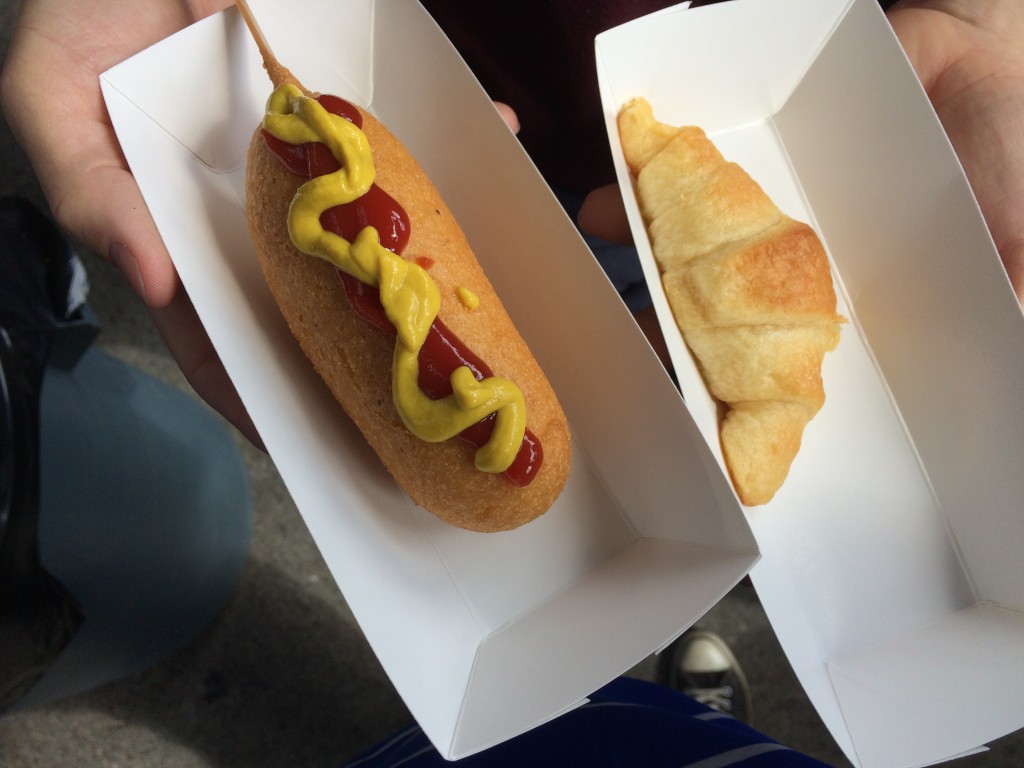 And last, but not even close to least, was dessert.  The dessert stands had shorter lines because they had no prep time, so we were planning to hit up a few of them.
However, after we got our first nibble of the Bacon-182 donut from Highland Park-based Donut Friend, we decided to just go back and blow the rest of our tickets there.
This maple glazed beauty is topped with salty-sweet coconut bacon pieces.  I was so smitten that I had two.  Toby tried the S'Morrissey for his second go-round, a s'mores style donut sandwich, which was just as divine.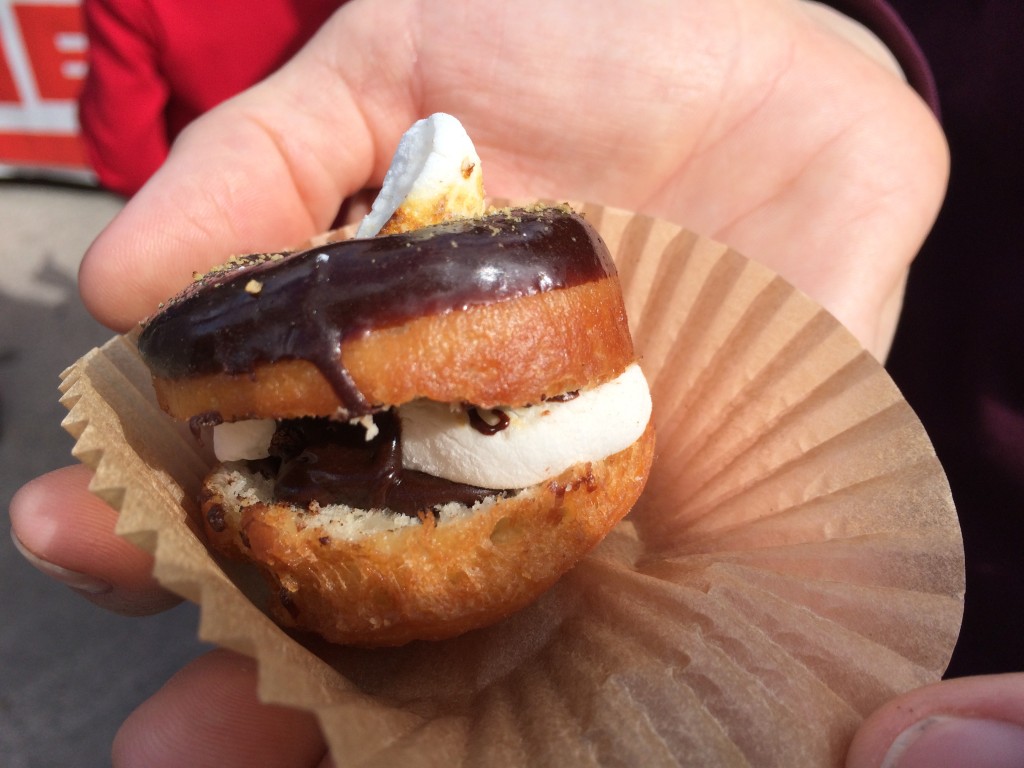 Donuts for days…
Well, looking back on it, we did get to try a lot of yummy bites and learn about a handful of new places.  So in that way, Vegan Street Fair was a success.  I'm seriously excited to see what they do with it next year.