Baby, it's cold outside.  Okay, not here in LA, but it's probably cold where you are, so warm up with this vegan version of a rich and hearty classic.
There's so much to love about French Onion Soup – a rich warming broth filled with tender caramelized onions, topped off with a gooey layer of cheesy bread. It's seriously a one bowl wonder.
But, until very recently, I thought that there was no way to enjoy a vegan version of this miracle dish.
Boy, was I wrong.  Not only is the vegan version as scrumptious as the classic one, it also leaves you feeling less weighed down than its beef broth and cow's milk predecessor, making it a surprisingly light yet totally satisfying way to warm up this winter.
CLICK the video above to WATCH and LEARN this recipe.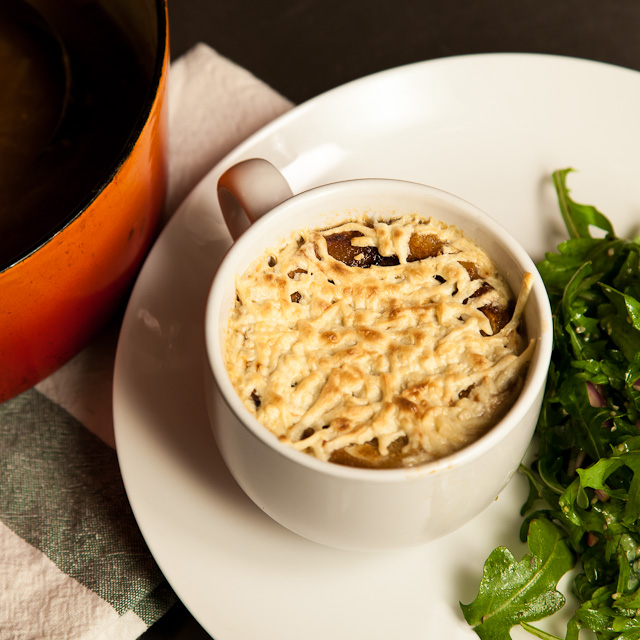 French Onion Soup
Author:
The Vegan Video Pantry
Ingredients
3 tbsp Earth Balance Vegan Butter
3 lbs of yellow onions (about 4-5 large ones), ends cut off and thinly sliced
4 cloves of garlic, minced
pinch of salt
2 tbsp AP flour
6 cups vegetable broth
⅓ cup sherry or a dry white wine
1 tsp Dijon mustard
1 tsp apple cider vinegar
6 slices of sourdough bread, toasted and cut to fit the mouth of your serving bowls (or you can use any bread you have on hand)
1 cup Daiya shredded vegan mozzarella cheese
Instructions
Melt butter in a large pan over medium low heat.
Add onions, garlic and salt, and cook for about an hour, stirring occasionally, until onions are brown and tender.
Add in flour and stir rapidly for 2 or 3 minutes, thickening the onion mixture.
Add in broth, sherry or wine and mustard. Cover and let simmer 15 minutes, stirring occasionally, then stir in vinegar and remove from heat.
Ladle soup into six heatproof bowls. Top each with a slice of toast and a generous sprinkling of Daiya cheese. Place the bowls on a tin foil lined baking sheet and slide into the broiler. Broil for 2-3 minutes, until cheese starts to brown. Serve immediately!
Notes
This soup keeps, so if you want to have leftovers, just hold off on the bread/cheese step until you're ready to serve.