When I saw prosciutto-wrapped melons in last month's issue of Martha Stewart Living, I knew I had to figure out how to veganize this simple grilled recipe. Thanks to our new favorite seitan bacon, it turned out to be a cinch.
Psssst…
We made this recipe using Upton's Naturals seitan bacon.  Let us know if you find another brand that works well, too!
---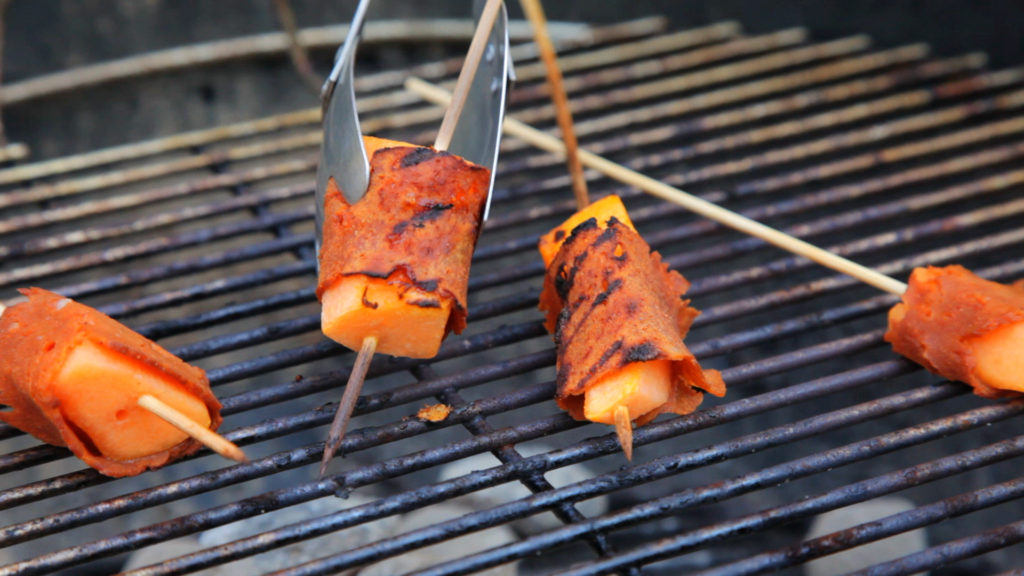 Grilled Bacon Wrapped Melons with Fresh Lime
Author:
The Vegan Video Pantry
Ingredients
½ a ripe cantaloupe, cut into one-inch cubes
1 package of Upton's Naturals seitan bacon
bamboo skewers
1 lime
Instructions
Gently wrap each melon chunk with a thin slice of seitan bacon, using your finger to seal the end by pushing it into the melon juice. Stab with a skewer.
Place skewers on a hot grill, let cook for two or three minutes until charred, then flip and repeat on the other side.
Remove from grill and drizzle with a squeeze of fresh lime juice. Seriously, don't skip the lime. This is what makes these morsels so special and succulent. 🙂
Notes
Sometimes the bacon slices can get a bit fickle and try to unwrap themselves from the melon. I recommend skewering THROUGH the seam of the wrapped bacon, even though that's not how we did it in the video.

Even the pieces that don't come out perfectly still taste like a dream, so don't stress too much about keeping it pretty.