These little snackers are crispy on the outside, soft and gooey on the inside and not just for kids.
Tater tots make a great after school snack for kids and, ahem, kids at heart. We've livened these up by adding some cheese and fresh herbs into the mix. The result is a tot that is crispy on the outside and oh so ooey gooey in the middle. We like using Field Roast Chao Slices because of their tangy flavor and high meltability factor. Feel free to try out different herb combinations in your tots and let us know how it goes in the comments!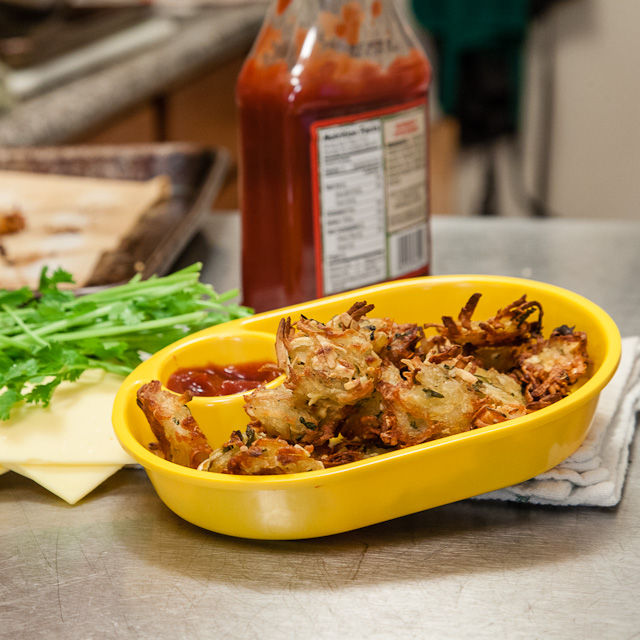 Homemade Herb and Cheese Tater Tots
These little snackers are crispy on the outside, soft and gooey on the inside and not just for kids.
Author:
The Vegan Video Pantry
Serves:
several dozen tots
Ingredients
3 large russet potatoes, peeled and cut in half
6 slices of Chao Tofu Cheese (or about ¾ cup of vegan cheese shreds)
3 scallions, finely chopped
½ cup chopped cilantro
1 tsp salt
fresh ground pepper to taste
Olive oil for drizzling
Instructions
Preheat oven to 425.
Parboil potatoes in salty water for about ten minutes, until you can stab one and get a little bit of resistance on the knife coming out.
Soak potatoes in an ice bath to stop the cooking and to make them cool enough to handle. Pat potatoes dry.
Grate potatoes into a large bowl and set aside.
Stack your Chao Slices and cut in half to make two blocks. Shred the cheese, then add to the bowl of potatoes.
Add in scallions, cilantro, salt and pepper. Use your hands to mix and mash all ingredients really well.
Form potato mixture into tablespoon sized balls using your hands. Place on a parchment lined baking sheet, leaving a little bit of room between each one.
When the tray is filled, use the back of a spatula or the bottom of another baking sheet to flatten the tots down.
Drizzle with olive oil.
Bake for 25 minutes or until the edges start to brown, then flip the tots and bake for 15 more minutes or until tots are golden brown.
Serve immediately or save some in a sealed freezer container for later.
Notes
To reheat frozen tots, bake at 350 for ten minutes or until they are warmed all the way through.