Inspired by our favorite beachside coffee shop, this loaded burrito is sure to satisfy for breakfast or whenever the Munchies strike.
Once or twice a week, Mr. Vegan Video Pantry gets up really early and heads down to the beach to go bodyboarding. For him, it means clearing his mind, getting some exercise, spending time in nature.  For me, it means… Dogtown Munchies Burrito for breakfast.
Dogtown Coffee is a cute, always busy coffee shop right near the beach.  When we lived in Santa Monica last summer, we would go hang out there for hours, reading, munching, taking in the sun at one of their outdoor tables.
Now that we live further east, I relish the days that he brings home breakfast from this cozy spot.
While Dogtown is by no means a vegan cafe, I have to give them props for making a mean vegan version of their Munchies Burrito. It's got tempeh, avocado, tater tots, pico de gallo and chipotle mayo all wrapped up in a whole wheat tortilla.
Now, you can imagine that this breakfast burrito habit has gotten a little expensive.  So we decided to take inspiration from Dogtown and make our own version of the Munchies Burrito at home.
Ours features Field Roast Maple Apple Breakfast Sausages and a simple tofu scramble in place of the tempeh.  You can use any store bought tater tots, or if you're feeling adventurous, make your own with our Homemade Cheese and Herb Tater Tots recipe.
How do you make your Munchies Burrito? Let us know in the comments!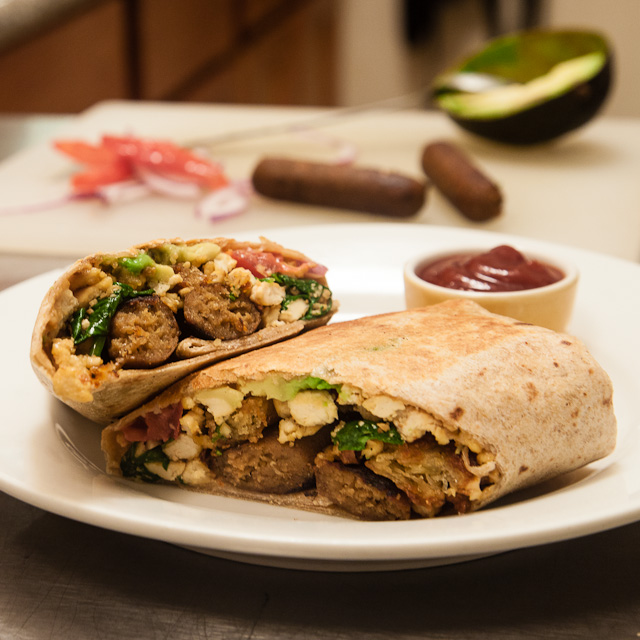 Munchies Breakfast Burrito
Inspired by our favorite beachside coffee shop, this loaded burrito is sure to satisfy for breakfast or whenever the Munchies strike
Author:
The Vegan Video Pantry
Ingredients
8 oz firm or extra firm tofu
2 cloves garlic, minced
2 tbsp nutritional yeast
2 tsp soy sauce
a handful of fresh spinach leaves
2-3 tbsp canola or other high heat oil
4 Field Roast Maple Breakfast Sausage Links
¼ cup of vegan mayo
chipotle hot sauce (to taste)
2 large whole wheat tortillas
½ an avocado, sliced
1 small tomato, sliced
¼ of a red onion, sliced
a few handfuls of tater tots
Instructions
Bake or reheat your tater tots according to instructions on the package.
To make the tofu scramble… Smash up tofu with your hands or with a fork, then place in a clean kitchen towel and pat down to get out some of the water.
Heat 1-2 tbsp of canola oil in a non-stick pan over medium heat. When the oil starts to shimmer, add in the tofu. Cook until it starts to brown a little bit, then add in nutritional yeast and cook until the tofu starts to look a little crispy on the edges. Add in garlic and saute for another minute. Then add in soy sauce and scrape any bits off the bottom that may have gotten stuck. Add in fresh spinach, and mix in until it just starts to wilt. Remove from heat.
In a cast iron skillet, heat the remaining tbsp of oil, then cook the sausages, making sure to turn them onto all four sides so that they brown evenly all around.
To make chipotle mayo... whisk vegan mayo and chipotle sauce together until smooth. Use as much chipotle as you'd like.
To assemble… Lay out a tortilla. Slather on chipotle mayo. Lay out ½ the amount of avocado, tomato slices and onions in a row down the center of the tortilla, leaving some room on each end. Spoon in some tofu scramble, a small handful of tater tots and two sausages. Fold the two short ends over, then roll up the burrito (see video). Repeat with second tortilla.
If you have a cast iron grill press, heat it up in your pan. If you don't, you can just use another heavy bottomed pan to help hold down the burrito as you press it. Press burrito until bottom is brown and crispy, then flip and press other side.
Munchie time!