It's that special time of year when we munch on decadent foodstuffs while ogling ridiculously good-looking people who haven't eaten in weeks (and judge what they're wearing).

I have always dreamed of throwing a rad Oscar party.
Unfortunately, our apartment being what it was in NYC (ie: comparable in size to a shoe box), this dream could never become a reality. (Cue the strings.)
Flash forward to this year, two months after getting settled into our spacious new apartment in sunny La La Land (I know the sunshine is irrelevant, but I wanted to rub it in your face just a little), and I'm finally able to conquer my dreams.  Wait, do you conquer dreams or… ? Never mind. The point is I am having an Oscar party and I'm on the prowl for some yummy vegan party munchies.
Some people like to do nominee-themed Oscar snacks (think Imitation Game imitation chicken nuggets). While I like this idea in theory, I'd rather just have some really good food and not have to figure out a clever pun to make it fit into my party spread.
So, without further ado, I present to you 13 delicious vegan party foods, all perfectly suited for your Oscar party, should you also decide to make this the year that you follow your dreams.  ("Follow" – of course!)
Some of them are my tried and tested favorites, while others are just recipes I've bookmarked because they look so tasty.  All of them come from awesome vegan bloggers who regularly brighten my day and who are worth checking out beyond just the posted recipe (in addition to a few of our own Pantry faves).
Please comment below with other party-worthy recipes, especially ones with good oscar puns since I obviously need help in that department (see: "imitation chicken nuggets," above).
Oscars 2015 – Party Snacks Recipe Roundup
Beer Battered Onion Rings from Fettle Vegan
This recipe has gotten me through some cold and otherwise miserable New York winter nights.  They pair beautifully with veggie burgers (duh) and also make a fantastic party snack.

Vegan 7-Layer Mexican Dip from Minimalist Baker
I love the Minimalist Baker site because everything is LEGIT simple and this 7-layer dip is no exception.  Plus, if you don't feel like gathering together all the ingredients for the different layers, you can just make their Vegan Cheese Sauce and still have a bomb party dip. (Drops mic, walks away.)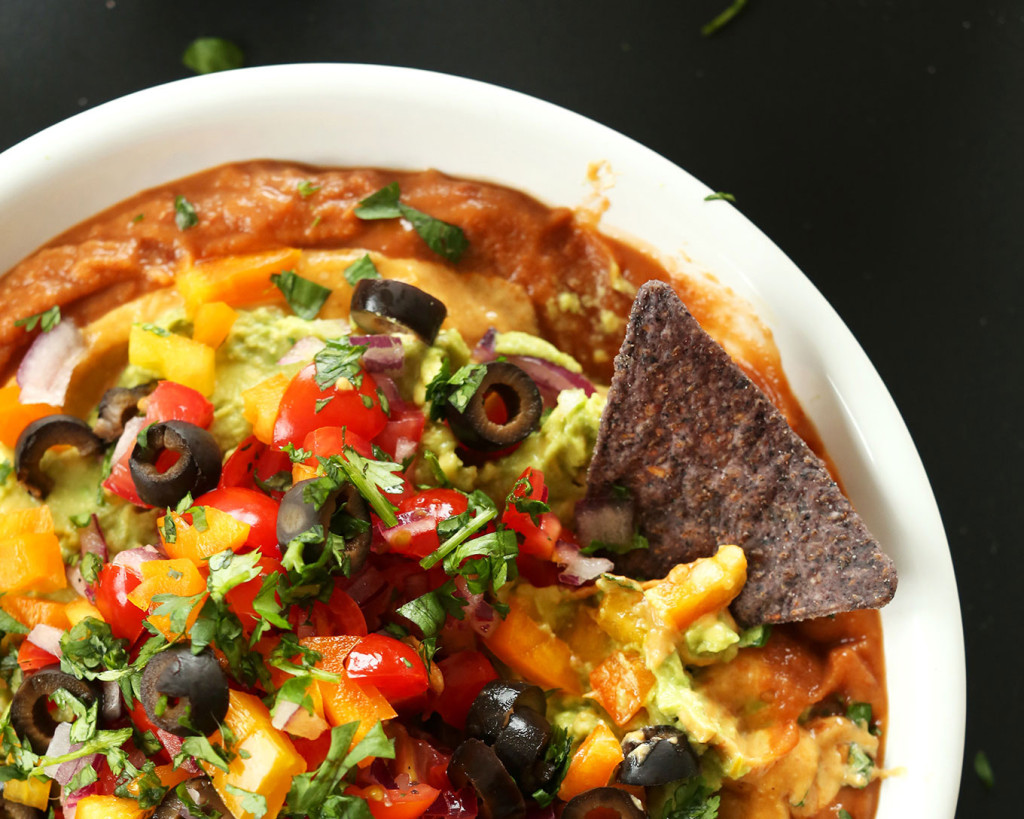 Smoky Maple Roasted Pecans from The Vegan Video Pantry
Our sweet and spicy nuts are so quick and easy that putting them on every party menu is a no-brainer for me.  I think since the Oscars is a classy event, I might even splurge and throw some macadamia nuts in the mix. Ooh la la.
Baked Macaroni & Cheese Bites from Loose Leaf Vegan
It's no secret that there are a ton of good vegan mac and cheese recipes (#veganrevolution), but I love that Loose Leaf Vegan raises the bar by baking it into bite-sized party servings.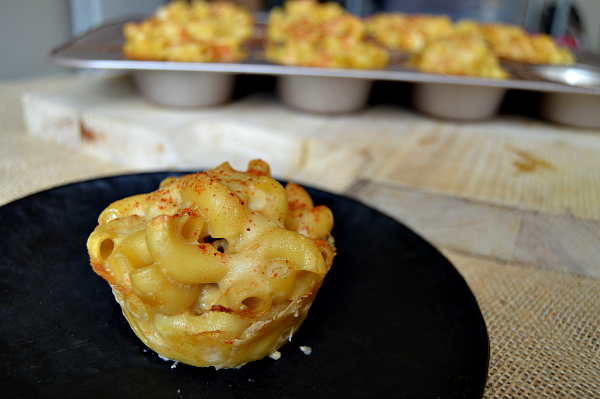 Melty Cashew Mozzarella Sticks from Vegan Richa
Vegan Richa is my go to site for authentic Indian recipes, and she is also great at making innovative party snacks. These mozzarella sticks start with an easy homemade cashew cheese and end with a breaded exterior that you can either bake or fry, depending how bad you wanna be.

Vegan Cake Pops from The Edgy Veg
Cake pops are a perfect bite-sized party sweet and also a great canvas for themed decorations. I've always kind of shied away from them because they have so many steps, but The Edgy Veg's irreverent video has me convinced they're not that hard or time consuming after all.

 Salted Caramel Chocolate Chip Cookies from Fork & Beans
Anyone who doesn't eat or drink dairy knows that dairy- free salted caramel is really hard to come by. Thank you to Fork & Beans who taught me about JJ's Sweets' Coconut Milk Caramels, which I went out and bought IMMEDIATELY after reading this recipe. Then she goes and takes it up a notch by baking them into cookies, which BLOWS MY MIND.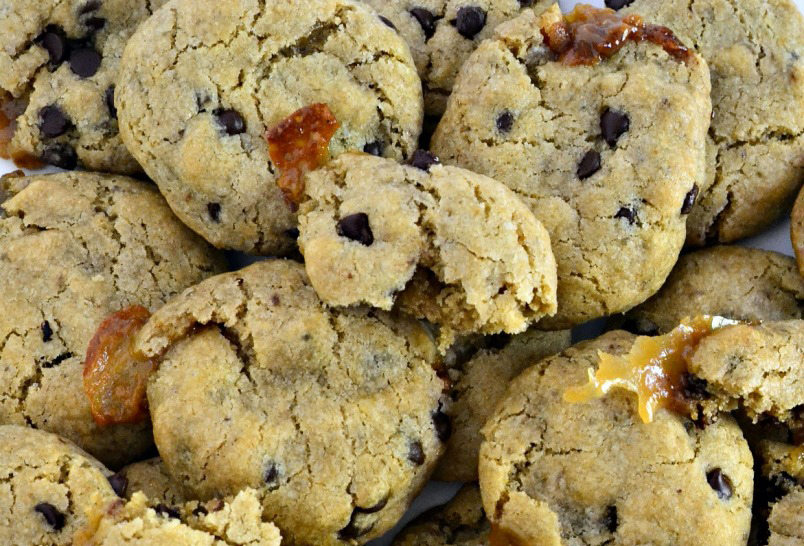 Creamy Artichoke Spinach Dip (without the junk) from Plant Powered Kitchen
I made this dip for a Puppy Bowl, whoops I mean "Superbowl" party one year, and it was a huge hit with vegheads and omnivores across the board. It's also nice to bring an actually healthy dip to the table when most party foods are pretty much loaded with the naughty stuff.

Tijuana Style Street Tacos from Vegicano 
Vegicano consistently posts pics of the most enticing Mexican food I have ever seen (seriously, do your eyes a favor and follow him on instagram now). Whip up a big stack of homemade tortillas, a bowl of avocado salsa and a spread of these simple fillings for a do-it-yourself taco bar for a surefire win.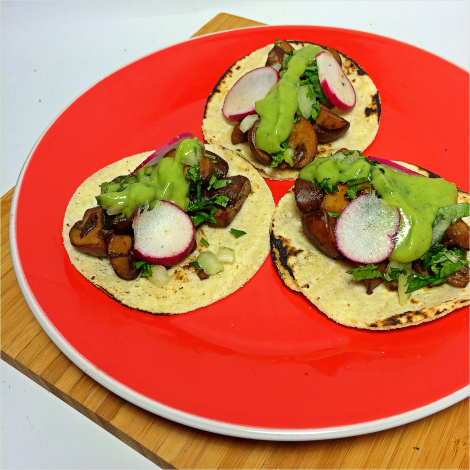 Rosemary Arancini from Milking Almonds
These simple rice balls are so elegant and can be categorized under one of those dishes that won't offend non-veg friends because it just kind of happens to be vegan. And I just kind of happen to be drooling all over my keyboard right now.

Vegan Little Wieners from Hell Yeah it's Vegan!
These could probably do with a better name, but dyaamn, they look so good I forgive them.  And the nostalgia factor is high on these puppies, so I think they'd be a big hit with non-meat-eating friends who yearn for a simpler time.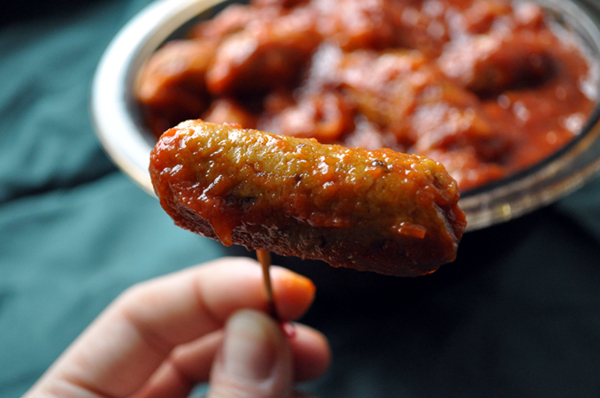 Beet Nut Butter Cups from Veggie Desserts
Veggie Desserts is this cool British chick who puts veggies in delightfully unexpected places.  Take these chocolate nut butter cups, a classic crowd pleaser, which she elevates to new levels with the simple addition of a gorgeous beet-red filling.  Red carpet ready.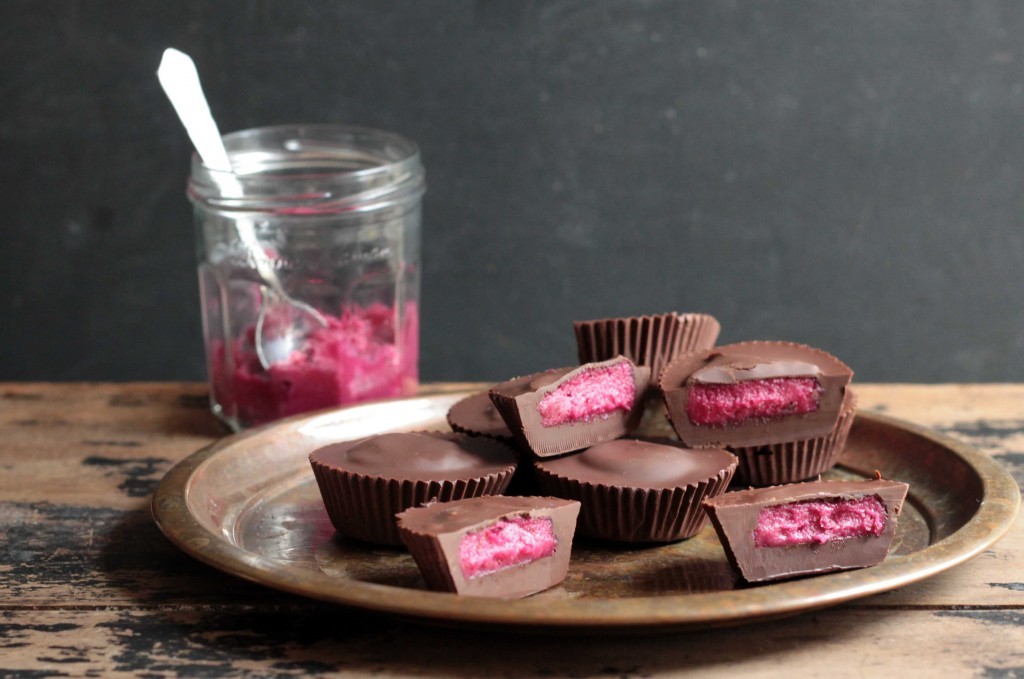 Movie Theater Popcorn from The Vegan Video Pantry
Last, but definitely not least, the ultimate of movie-lovers snacks. Why you'd wanna make buttery movie theater style popcorn for watching the Oscars is not something I should have to explain.
In honor of Whiplash, I might even throw a few chocolate covered raisins in the mix on awards day. Okay, I stole that one from Nitehawk Cinema, but it's such a good idea, right?! (If you have no idea what I'm talking about, go see Whiplash. DO IT NOW.)
*Please note that all photos are the property of each blogger's site and I am just reproducing them here for the sake of making you drool and linking back to their recipes. Now, go check 'em out!*